Support is king. Getting started with precision ag equipment can be a daunting task. Downtime is not only frustrating, it can also be very costly. That's why we provide 24 hour/7 day service for our customers.
We are Experts in Precision Ag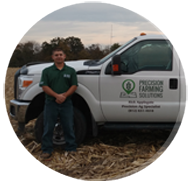 Hello, I'm Rick Applegate, CEO of Precision Farming Solutions LLC of Birdseye, Indiana, one of the state's top leaders in the field of Precision Ag. If farm anywhere in southwest Indiana or north central Kentucky, we are your local Precision Ag experts, dedicated to giving you the highest levels of product and personal support to keep you running at peak efficiency.
We provide the very latest in aftermarket Precision Ag products and services to help you become progressively more profitable. Our offerings include soil sampling services, field tile design, tile planning, variable rate planting and fertility recommendations, drones for ag, drones for farming, uav's for ag, agcam cameras, auto steer systems, yield monitors, planter controls, and comprehensive Data Management. We are passionate about both technology and agriculture and are deeply committed to showing forward-looking farmers exciting new ways of doing things.
We are known not only for our surprising ideas, but also for our service and support. Everyone understands that if they purchase anything from Precision Farming Solutions LLC, we will be there to support them, literally day or night, seven days a week, making sure that at all times and in all situations they are completely covered. That kind of support has led to intense customer loyalty, which has kept us steadily growing and expanding over the almost ten years that we have been in business. For more information, please call me at: (812) 631-4618.